Artwork
Vectored, separated artwork is required. Illustrator files are preferred.
Bags
All sizes are approximate. Finished goods may vary plus or minus 1/2in in each direction.
Cancellations and Changes
Any and all changes and/or cancellations to orders must be received in writing. Orders will be invoiced for work completed and materials used prior to cancellation or change. Increases to orders will be treated as a separate order unless received before manufacturing of original order. Any changes may affect your ship date.
Custom Bags
We are THE MASTERS of custom bags!
Have a wish list and a budget?
We will create the BEST bag for your buck!
Have detailed specifications and criteria?
No Problem! We are very detail oriented and will create your exact product!
Have a product that needs to be housed in an industrial foam bag?
Send us the product and we will make sure your item is housed correctly in a bag that will be functional as well as pleasing to the eye!
We also make pillows, blankets, chair back covers (great for meetings!), trunk covers, leather coasters, leather key chains and more!
Let us help you to grow your business with custom made quality USA products!
Customer Warrants
Each purchase orders received assumes Customer warrants they have the right to use marks, symbols or designs depicted in the artwork and shall indemnify and hold Sport Systems Custom Bag Corp. harmless in any infringement action.
Drop Shipments
Drop shipments are available at $7.50 (v) per additional destination.
Fabrics–please call to ensure availability of fabric colors before placing orders.
Fabric dye lots will naturally have some variation. We cannot guarantee the color fastness of cotton – based materials. Custom and/or non-standard colors are available in all fabrics. Please call factory for details.
 

Available Colors

Fabrics & Materials

T A N

B L A C K

B R O W N

D A R K G R E E N

G O L D

Y E L L O W

K E L L Y G R E E N

N A T U R A L

N A V Y

O R A N G E

P U R P L E

R E D

R O Y A L

S I L V E R

M A R O O N

T E A L

W H I T E

8oz Canvas / 10oz Canvas

15oz Canvas / 18oz Canvas

x

x

x

x

Nylon: 70D, 200D, 400D

x

600 Denier Polyester (600DP)

1000 Denier Cordura Nylon

x

Handle Webbing Polypropolene

Handle Webbing Cotton

x

x

Zipper Chain

Zipper Chain – Heavy Duty

x

x

x

x

x

x

x

x

x

x

x

x

x

x

x

Piping

x

x

x

x

Honeycomb Nylon

x

x

x

x

x

x

x

x

x

x

x

x

Cordura Tweed

x

x

x

x

x

x

x

x

x

x

Textured Vinyl

x

x

x

x

x

x

x

x

Retro Vinyl

x

x

x

x

x

x

x

x

x

x

x
Freight Policy
All orders are FOB Rhode Island. Factory will select most direct or least expensive method unless otherwise specified on order.
Domestic FOB RI, Import FOB CA
Overnight shipments via UPS, DHL, Fedex require Customer's account number for shipping.
Fullfillment Services
Fulfillment services are available! Please call Factory for quote.
Gift Wrapping
Gift wrapping is available! It's a fun and exciting way to receive a package for a job well done!
LTM Charges
There is a $93.75(v) less than minimum charge.
Minimums
Order minimum = 50 pcs
Embroidery Minimum = 50 pcs
Transfers Minimum = 250 pcs
Less than minimum fee = $93.75
Ordering Instructions
Please place your order through an authorized distributor. If you need help finding an authorized distributor please send an email and we will forward the request for you.
Overs and Unders
All USA MADE orders are individually cut, printed and sewn. We reserve the right to ship over or under by no more than 5%.
For exact quantity orders, specify on the PO and add 5% to the list price of the bag.
Packaging
All items are shipped bulk unless otherwise noted on order. Any shipping charges quoted are an estimate only. Special packaging and individual boxing are available. Please call for quote.
Prices
Prices are subject to change without notice. Please call to confirm pricing. Not responsible for errors made in web site concerning prices, fabrics, photos, or related items.
Prices are quoted in cash discount terms.
Production Time
Normal production time is 20 to 22 working days after receipt of order, art, and proof approval, depending upon seasonal demands.
Proofs
Email proofs are available at no charge. Pre-production proofs are available for $30.00 (v) plus cost of the bag, decoration and set ups. Production will not begin until approval of pre-production proof and/or art is received in writing and may affect ship dates.
Random Samples
Spec Samples: Spec samples are made to order. A spec charge of $45.00(v) along with the cost of the bag, decoration and set ups. Please note: Spec charge of $45.00(v) will be rebated upon placement of an order of 50 pieces or more.
Random Samples: Random samples are available and invoiced. Invoice will be credited if the sample is returned within 30 days of shipping in original condition.
Customer UPS or Fedex account numbers are required for all samples.
Returns
All returns must have factory approval. All imprinted orders are non-returnable.
Rush Charges
Rush charges are billed as quoted. Every effort will be made to accept rush orders without additional charges. Deadline shipments may require air shipment authorization. Customer's account number is required for air shipments.
Spec Samples
Spec samples are made to order. A spec charge of $45.00(v) along with the cost of the bag, decoration and set ups. Please note: Spec charge of $45.00(v) will be rebated upon placement of an order of 50 pieces or more.
Customer UPS or Fedex account numbers are required for all samples.
Terms
Terms will be determined upon review of completed credit application. Large orders will require a deposit. Visa and MasterCard are accepted. Please indicate before placing orders if credit card payments will be used as all prices are based on cash discount pricing.
Embroidered Ribbon Program
Add elegance and value to your bag using our Embroidered Logo'd Ribbon Program!
| | | | | | |
| --- | --- | --- | --- | --- | --- |
| Quantity | 150 | 300 | 500 | | |
| | $12.00v | $9.80v | $8.00v | | |
Price updated July 2019
Embroidered Logo'd Ribbon can be added to any style Bag!
It's easy!
Choose your background color.
Choose your thread color.
Then send in your artwork, and…viola!
Price includes: Ribbon on 2 sides of bag.
Ribbon Background: You choose the color!
Logo Color: 1 or 2 color logo.
Min order 150 pieces
CONTACT FACTORY FOR RIBBON PRICING
Applies to Boat totes and Duffel bags up to 24″
Quantities may be split between 3 styles! (example: Buy 50 Attaches, 50 Garment Bags, and 50 Duffels to create a Corporate Set!)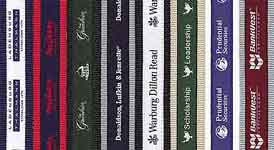 Embroidery
Embroidery pricing quoted upon request. Please call factory with
stitch count and quantity needed.
Union decorating available upon request.
Imprinting
All prices include a one-color, one-position spot imprint.
Additional imprint position/color: Add

$.74 (v)

Screen Prep charge per color/imprint:

$74.00 (v)

Metallic Inks: Add $.49(v) per imprint/color.

$.49 (v)

PMS Color Match: PMS color match are

$36.50 (v)
Union imprinting also available upon request!
Leather Patches and Trim
Orders for bags with leather handles incur a mandatory polybag fee of $.48v.
Many sizes, shapes and colors available.
Please call for details and pricing!
Swatch Proofs
Swatch proofs are an imprint sample of the logo specified on the order which is imprinted on a sample of the fabric that will be similar to the production order. Costs for the swatch proof are: $20.00 (v) plus $58.75 (v) screen prep charge. Metallic Inks: Add $.45(v) per imprint. PMS Colors: PMS colors will be matched as closely as possible at n/c. Indicate u or c.
Color Options
We have a variety of color options to choose from, please see our full color page link below: